Diamond, Engagement and Wedding Frequently Asked Questions
MARKBRIDGE JEWELLERS
For 24 years, Mark Wildman - Designing Jeweller has provided timeless beauty through 'classically-contemporary' design and exceptional customer service. He is one of the few gemstone and diamond experts in Sydney's iconic Northern Beaches, (north of the bridge). 
His passion and his team, always been to look after his customers and those they love by creating jewellery of a timeless beauty. No matter how new or old your jewellery is, or indeed what taste you prefer, MarkBridge Jewellers is honoured to have through good design, supported a wide local and international customer community of jewellery lovers. 
1. Is MarkBridge Jewellers specialists in wedding and engagement rings?
Yes. Eighteen years ago, we opened MarkBridge Jewellers and served many couples getting engaged or remarried. The highly personal experience and range of benefits we provide, has meant we proudly supplied all their wedding bands as well as support important anniversaries, special life moments, and ongoing jewellery advice and repairs.
We will guide you through the maze of decisions for your engagement ring such as which type of diamond - natural or an 'Above Earth' option*.  We will help you through the design process, deciding the settings, metal options, as well as advise you on whether to have a handmade, or a cast setting.
2. What is the best way to proceed?
We have a range of options to support you create the perfect engagement ring and the wedding rings of your dreams.
We have wonderful engagement rings - a large selection of designs and styles to suit all preferences along with the MarkBridge Weddings Package - offering over $1,000 in value, to support both of you right up to your wedding with some unique value additions and service.
We also provide a very large range of mens and women's wedding rings that are second to none. 
Our new innovative range of Proposal Rings can immediately assist your desire to propose if you have yet to decide on the exact engagement ring design. There is a range of benefits that go with this.
3. Can you describe the Wedding Package to me?
This is a range of fantastic services available to you as an engagement ring customer. This can help you relax and look forward to the big day with some special discounts and value offerings.  
- Save $200 on both wedding bands 
- 2 years complimentary engagement ring plating service 
- Free in store clean and polish for life, for all your rings 
- 10% discount off wedding flowers with AquaRosa Florist, as well as a free throw- away bride's posy bouquet of flowers 
- $200 off a safari holiday destination for your honeymoon with Encompass Africa  
- A complimentary Markbridge Jewellers ring cleaning cloth  
 4. Can I use my own diamond or gemstones?
Of course you can! We understand the sentimental value of your gemstones or a piece that has been handed down or gifted to you. We are specialists in using what is sentimental to you and retaining its integrity but using it in a modern way.
5. What is the turnaround time for a custom design?
The turnaround time is generally 4-6 weeks, however please notify us if you have a specific date in mind and we will try and manage our work to support your needs. We understand the excitement in creating your ring for life.
6. Do I need to make an appointment?
We do take walk-ins, however we would advise making an appointment  for custom designs, remodelling enquires and engagement ring/wedding band consultations. You can book an appointment online here 
7. When is payment required for custom makes?
We require a 50% deposit upfront and the balance on completion or collection. We also offer lay-by terms for 3 months for the balance of 50% if preferred. 
 5. Do you have a store where I can try pieces on?
Yes Shop1/15 Bungan Street Mona Vale - is our store and we stock a majority of the items you will see online, unless sold prior. For a particular piece, get in contact to check availability - call 02 99976043.
DIAMONDS
1. Do you provide all diamond options?
Yes we do we have natural and 'Above Earth' diamonds available for you.
2. What are MarkBridge Jewellers 'Above Earth' diamonds? 
Above Earth diamonds are man-made in a laboratory, by mimicking and speeding up the growth process of natural diamonds. The rough crystal that is created in the laboratory is then faceted and polished in the same way as natural diamonds to create lasting bbeauty.
3. What are they made of? 
Above Earth diamonds have the same chemical composition as natural diamonds, which is essentially carbon that has crystalised under high pressure and high temperature. 
4. Are they the same as natural diamonds? 
Above Earth diamonds have the same characteristics as a natural diamond in their hardness and the way that they reflect and refract light, so they look the same to the naked eye. 
5. Can you tell the difference between them? 
A gemologist can determine the difference between a natural and a man-made diamond, but to most people with just the naked eye, they look the same.  
 6. Are Above Earth Diamonds as valuable as natural diamonds? 
Because Above Earth diamonds are made by man, to an infinite quantity, it is important to know that because they are not scarce, they will not hold their value in the same way as natural diamonds. 
Above Earth diamonds are a great way to achieve the look that you like, until you are ready to secure your forever diamond, that can be treasured by future generations. 
7. What are natural diamonds made of?
Diamonds are made of carbon and created as a result of high pressure and high temperature deep within the earth. 
They are brought to the surface via a type of natural vertical pipe, often lined with a mineral known as kimberlite.
8. Where are natural diamonds found?
Diamonds are mostly mined in Canada, Botswana, Russia, South Africa and India.
8. What colours are natural diamonds?
Most of the world's diamonds are varying shades of white to yellow and brown.  Less than 1% are classified as colourless, or D,E,F on the GIA colour grading scale.  This a why a premium is paid for whiter or colourless stones.  A very small percentage of (0.01%) natural diamonds are classified as fancy colour, with hues of pink, blue, purple, violet, black, green orange, and even red.  The rarity of natural fancy coloured diamonds means they command a high price.
9. When were natural diamonds first discovered?
The first diamonds were reportedly discovered in India about 4000 years ago.
10. How are diamonds faceted?
The crystalline structure of diamond has a type of grain which if struck in the right way, can split or "cleave". This is used to advantage as one way of starting the cutting or shaping process.  The are also often shaped using lasers. To further shape it into a gemstone, it is spun on a holder and rubbed against another diamond in a process called bruting. 
80% of all rough diamonds pass through different hands in the city of Antwerp, Belgium.  Out of these rough stones that are traded, 92% of them will end up in India and often cut in the city of Surat
11. How are diamonds graded?
There are several different grading systems for classifying diamonds.  The most widely used one is the GIA system which is based on an alphabetical scale for colour, starting with D as the whitest right down to Z which is quite strongly tinted with yellow or brown.  Diamonds are also assessed for the amount of natural imperfections within the crystal or on its outside edges.  This is the clarity grading.  The third category for grading is the cut, which is a measure of how close to the ideal  proportions the gem has been facetted. 
12. How often do you travel to Antwerp to buy diamonds?
Once or twice a year and I am able to also personally select indivdually options throughout the year for you with the network of professionals that support us here in Australia.
13. What are conflict diamonds?
Diamonds which are illegally traded to fund conflict. The term was coined in the late 1990's when rebels in some African countries used diamonds to fund movements against legitimate governments. When the problem was at its height, conflict diamonds accounted for only 4% of the world's diamond supply. Today, they account for considerably less than 1%.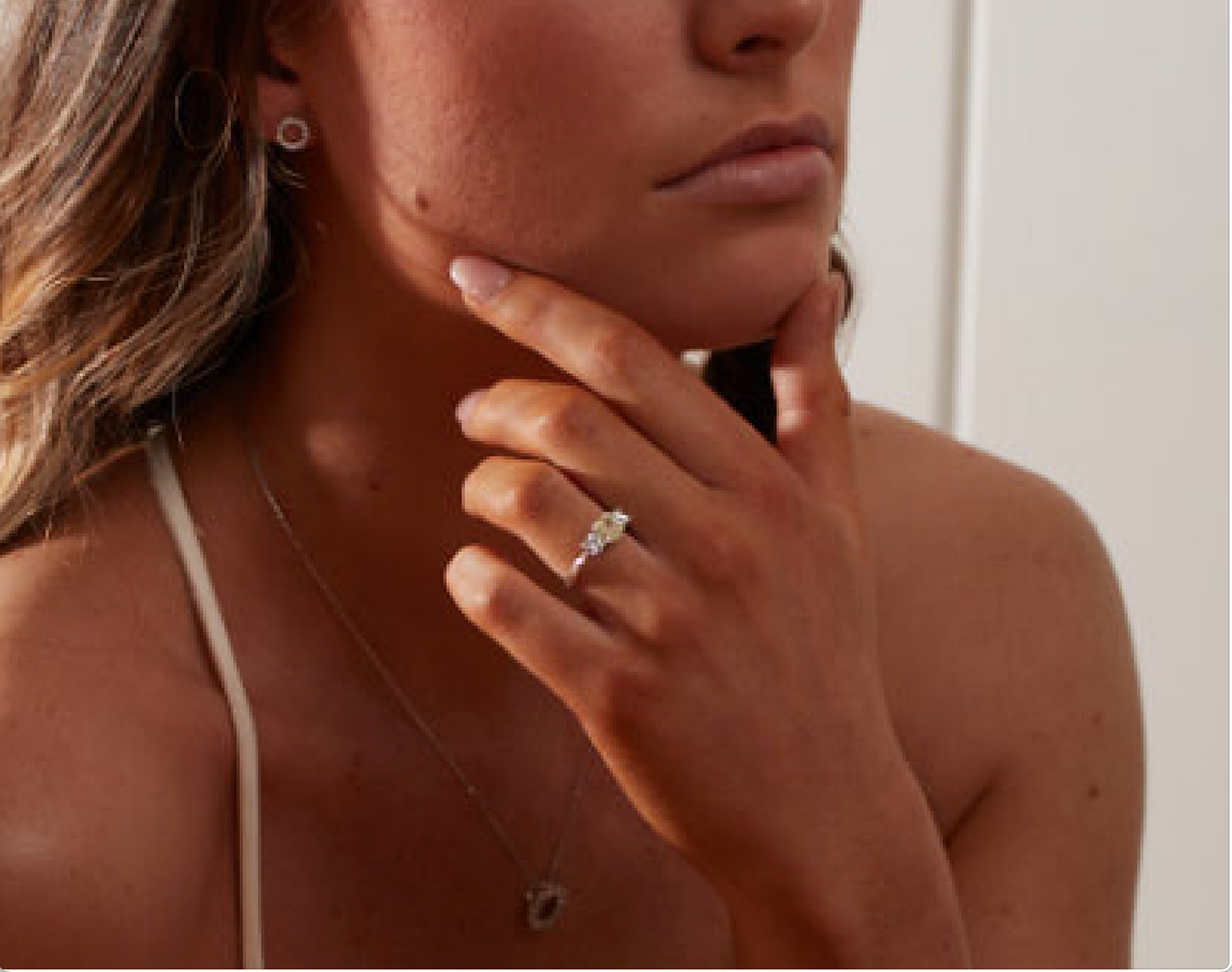 Please feel free to email us your specific enquiry.